A special invitation from Pastor Mark
Hello Magnolia UMC and friends,
The 180th Celebration continues at Magnolia UMC! It's amazing that since 1838, Magnolia UMC has had a home for every heart… and that tradition continues still today!

It has been a joy to remember how Jesus embodied the hearts of our people in Magnolia for the last 180 years, celebrate how Jesus is in our hearts and church today, and dream about what the next 180 years looks like with Jesus as our guide.

April has been a month of celebrations for our church:
EASTER was such a joy to celebrate our risen Lord together with beautiful services full of life and love.
Then our people were mobilized and served outside of our church walls with a 5K RUN and our annual SERVELATION.
Last Sunday BISHOP SCOTT JONES shared a very special message and challenge as God's own people.
THIS WEEKEND (April 21-22), I would like to invite you to be a part of the wonderful monumental events Magnolia UMC is planning to commemorate this tremendous milestone in ministry…

SATURDAY April 21, 12:00-4:00, 180th Celebration Carnival!we'll have our 180th Celebration Carnival with:
A hotdog lunch with all the fixings
Great music
Inflatables & Climbing Wall
Carnival Games
A Cake Walk
Washer games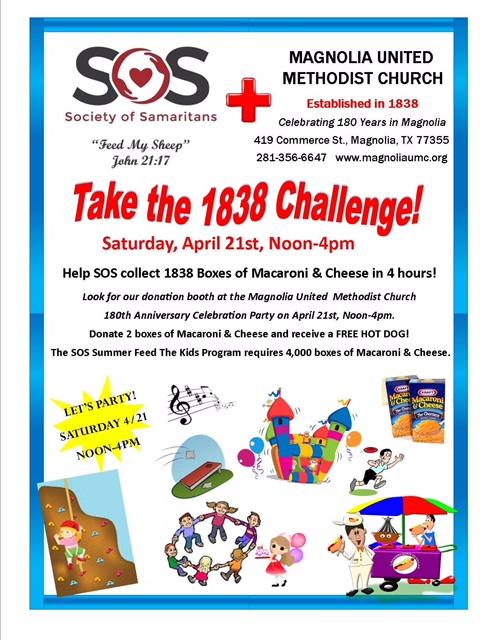 The Magnolia Community has responded with an outpouring of affirmations and will be here on Saturday and Sunday to recognize and congratulate MUMC… including:
The Magnolia Elementary School choir
Representative Cecil Bell
Chase Hogan, President-Elect of the Magnolia Rotary
Heath Vercher, previous Choir Director
Sandra Barton, President of the Chamber of Commerce
Dr. Todd Stephens, Superintendent of Magnolia ISD
Charlie Riley, County Commissioner
Representative Mark Keough
Historian Celeste Graves
Todd Kana, Mayor of Magnolia (and Jeanine with Willie)
Shirley Jenson, President of the Society of Samaritans
Rev. Kip Gilts, District Superintendent of Magnolia UMC
SUNDAY, April 22, 10:30 am, "Great History, Great Future"worship service with a reception after church:
Representative Kevin Brady's Proclamation
Debra Hall guest musician
Rev. David Meeker-Williams with prayer and music
Frank Parker (past Mayor of Magnolia) & Marcy (resident historian)

I hope to see you this Weekend as we continue to celebrate our risen Lord by remembering our rich heritage and dreaming of our glorious future! Again, it is a joy to serve the Lord with you here at Magnolia UMC as your pastor, and I look forward to celebrating with you!

God bless you, your family, our Magnolia UMC, and the greater Magnolia community!

Dr. Mark Welshimer
Pastor

---
If anyone needs assistance, please contact Pastor Mark at:
mwelshimer@magnoliaumc.org